I have always loved to bake. I started making cookies for friends and family in high school, and along the way I discovered this super simple combo: 1 can of pumpkin, 1 box of cake mix, 1 bag chocolate chips. Fortunately, I eventually learned about cake mixes with some pretty simple ingredients and not a lot of dyes or additives, and Immaculate Baking became my go-to cake mix for this recipe (not sponsored).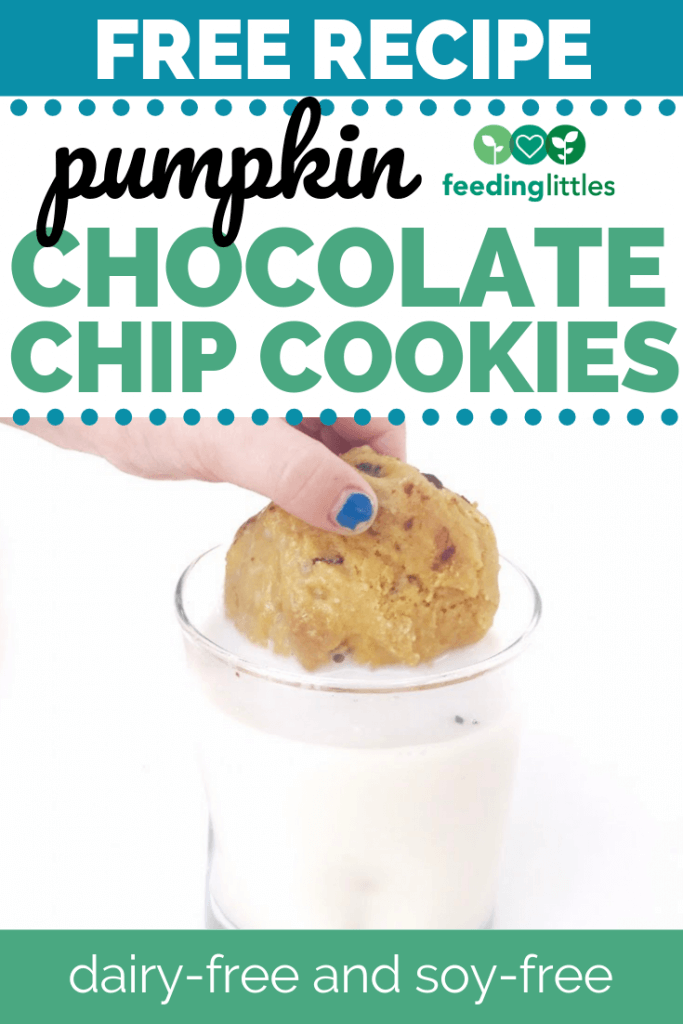 This is a cookie. It has sugar. It's OK  to have some – check out our post on sugar if you want more info. I like that Immaculate Baking mixes have sugar, flour, baking powder etc – the simple stuff! You could also use any store brand yellow or white cake mix. Or if you're all fancy, I'm sure you could make the dry mix from scratch, but that makes it way less simple!
You can also make this recipe with spice cake mix, but I'm personally not a fan of cinnamon/pumpkin mixed with chocolate. Others are! 
The best part about this recipe is that if made with Enjoy Life Foods chocolate chips, it's dairy- and soy-free, as well as egg free if you use an allergy-friendly cake mix! It's a cookie everyone can enjoy that doesn't taste like a "modified" cookie. I have also tried gluten-free mixes with success for those who need it!
Here are the specifics:
Preheat oven to 350 degrees. 
In a large bowl, blend 1 box Immaculate Baking yellow cake scratch mix with 1 can pumpkin purée using a hand mixer; combine until smooth.
Stir in 1 bag Enjoy Life Foods chocolate chunks.
Form into 1-1.5″ balls and place on 2 cookie sheets (will make about 24 cookies total).
Bake for 12-14 minutes or until set – don't let burn!
Serve with milk/milk alternative of choice for dunking!