We recently featured various veggies and fruits of all the colors of the rainbow on our Instagram account. Our followers asked us to compile the charts into one printable document…so here it is!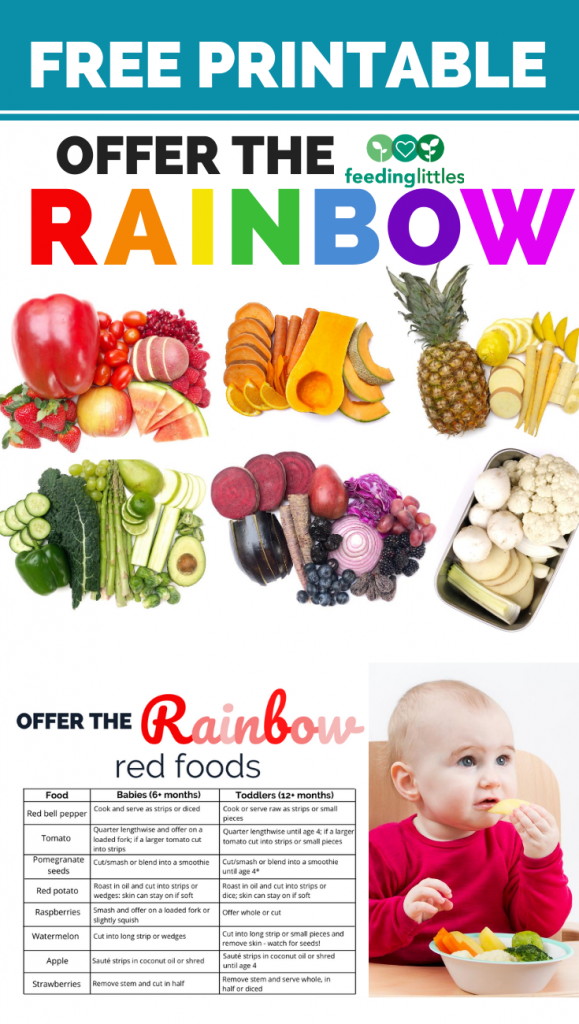 A few things to keep in mind: 
We have divided the foods into babies and toddlers. If you take our online Infant Course you will learn how to feed your baby whole foods and strips of food safely and with confidence.
The serving suggestions provided are simply ideas and do not describe every way to serve these foods; they're just a few ideas to consider. We have over 100 food ideas in our Toddler & Kid Course. 
When oils or spices are mentioned, they're just to get you thinking about how to flavor veggies and fruits. There's nothing age specific about the oils or spices used; they are OK as of 6+ months. We recommend limiting salt in infancy, but herbs/spices are encouraged because they help babies and toddlers learn about new flavors. Our favorite oils include olive oil, avocado oil, coconut oil, butter and ghee.
Hard foods like apples and carrots are choking hazards. Make sure to modify these foods until your child is 4.
Some of these foods may not be available year-round. Choose seasonal produce when you can – they will be more tasty and more affordable. 
Scroll through to see the chart, and click the link below to download the PDF file.