Music adds ambience and fun to dinnertime.
In our Toddler & Kid Course we talk about the importance of minimizing distractions, including TV and devices, during mealtime. Some of us like the TV on while we eat for some background noise, but you may have noticed that young eaters become easily distracted when the television is on.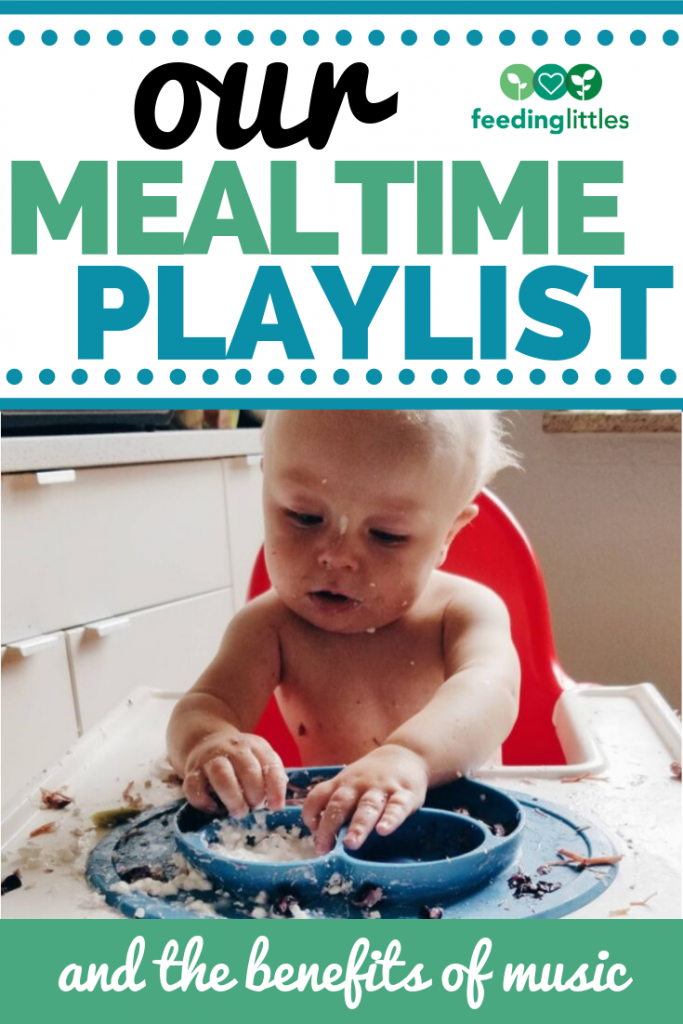 Music can provide low level sound and some wonderful ambiance while not being distracting. Turning on music at the beginning of a meal can be a fun pre-meal ritual that directs your child's focus from play to eating. Plus, listening to music in childhood helps your child develop language skills and learn about rhythm and sound. Make sure that the music isn't too loud or jarring while you eat or it will feel distracting. For many people, high-energy, fast songs don't work well for family meals, but do what works for your family.
Sharing your favorite music with your child can be a powerful way to connect. You can sing and dance together now when they're little and go to concerts together when they get older…and one day they'll think fondly of you and those memories whenever they hear that special song.
We decided to share some of our favorite mealtime songs with you below. As music lovers and big concert-goers, our selection here is a little bit eclectic. This list could go on forever. What matters is picking music YOU enjoy to create a positive environment for your family. Check out the Spotify playlist we created with these songs.
Judy's Favorites:
Bright by Echosmith
Stop this Train by John Mayer
Rumour Has It by Adele
Witchcraft by Frank Sinatra
Circle of Life by Elton John
Claire de Lune by Claude Debussy
Sympathy for the Devil by the Rolling Stones
You Got a Friend by Carole King
I Say a Little Prayer by Aretha Franklin
Megan's Favorites:
63 Days by Atlas Genius
Beloved by Mumford & Sons
Love Me Anyway by Christ Stapleton & P!nk
Wild Love by James Bay
#41 by Dave Matthews Band
High and Low by Empire of the Sun
An Evening I Will Not Forget by Dermot Kennedy 
My Blood by Twenty One Pilots
When the Party's Over by Lewis Capaldi (Billie Eilish remake)