Are you ready for Thanksgiving with your baby, toddler, or child? 
Here are different ways you *can* serve Thanksgiving dinner to kids of various ages! These ideas are by no means prescriptive and are meant to inspire you!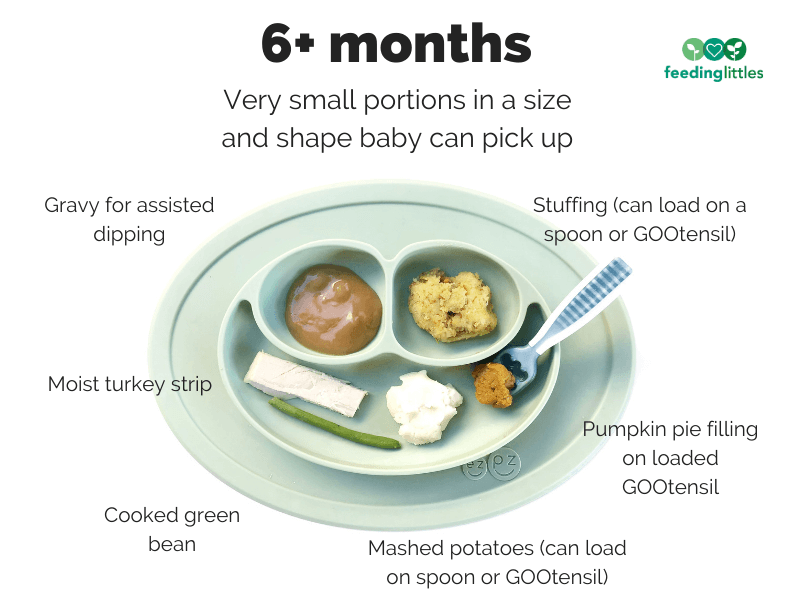 ---
---
---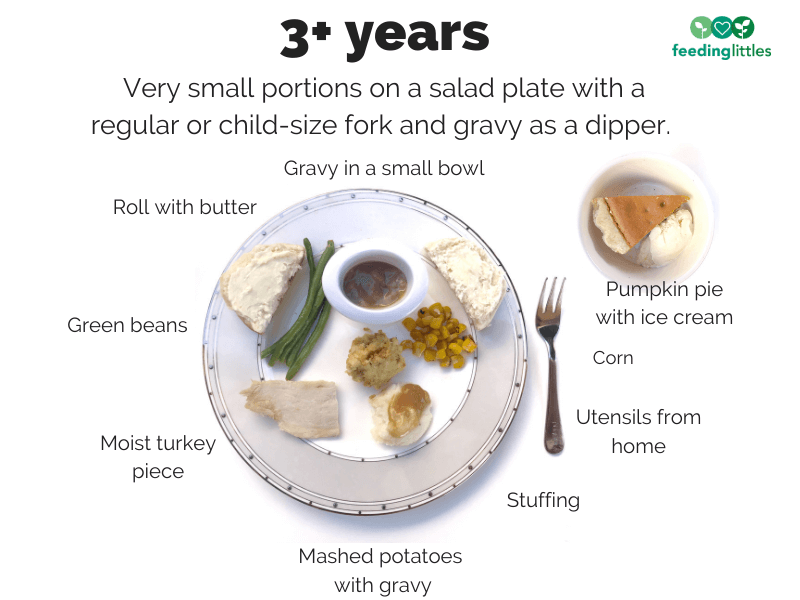 A few things to note:
Portions are tiny for all ages. As you may have read in our blog post surrounding Thanksgiving, the big meal can be a very overwhelming time for young eaters. New foods, new smells, perhaps a new environment…and then a HUGE plate full of food they sense they're expected to eat. We recommend keeping portions very small so your child isn't overwhelmed – they can always have seconds.
In these images, we recommended using real china for kids 3+. This is up to you and depends on the kiddo and setting. Some younger toddlers do well with glassware and breakables; others need more practice. Thanksgiving dinner isn't always the best place to practice new skills, so decide what works best for your child. Many absolutely are ready for real plates!
Babies can have cranberry sauce and bread with butter; we just didn't include it here because more food is overwhelming.
Some toddlers don't like pie or find pie crust difficult to eat. One way to serve it is crumbled up on top of ice cream; this is simply an idea though! You can always give them pie in small pieces.
Some parents aren't ready to give babies or young toddlers tastes of pie, so of course the pie filling is optional. (We both let our kids have some when they were older infants – it's about tradition, sharing food, being with family and learning balance, but you decide in the end!)
Many adults love to cover their dinner in gravy, but it's important to let less adventurous eaters explore gravy on their own. Judy recommends offering gravy on the side as a dipping sauce. It's less "scary" for a reluctant eater, and many kids love to use dips!
We hope your holiday is full of laughter, good food, and perfect imperfection.