It may be October, but it's still hot in much of the world and smoothies are A-OK year round! We love featuring these each year because they're tasty and appropriate for many allergy families too! (We aren't dairy-free but know many of our followers are for various reasons!)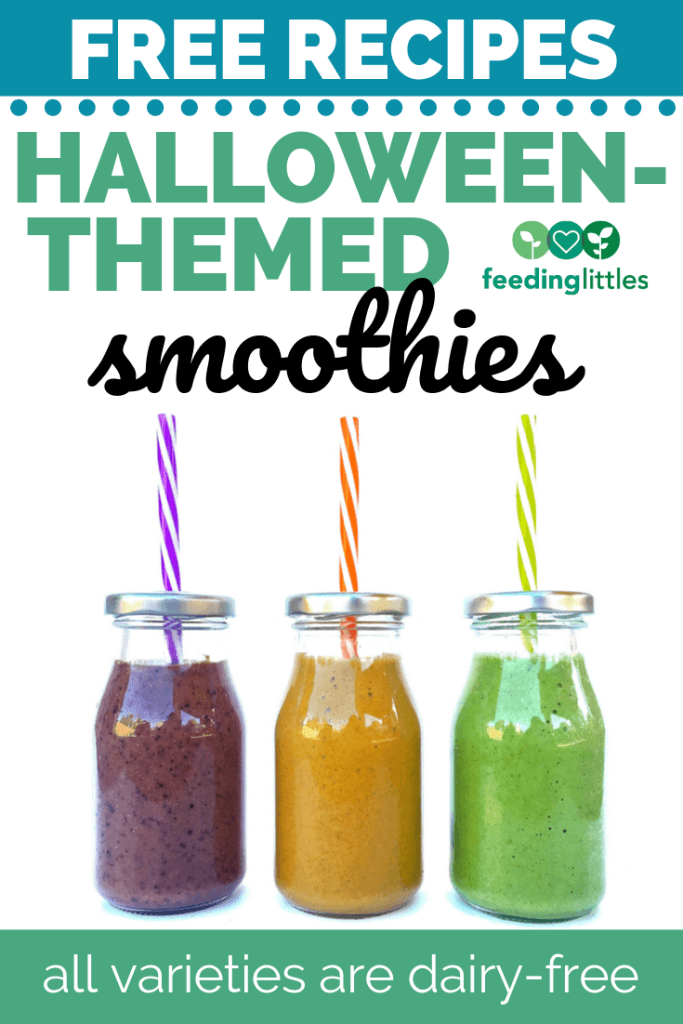 We found these fun glass Halloween milk bottles at Target again this year in the dollar spot! Worried about glass? Tuck the milk bottle in a sock before serving! It's great to get toddlers used to handling glass (with assistance) so they can safely drink from it as they get older.
Each recipe makes about 2 cups of smoothie, but the glass bottles fit about 3/4 cup liquid each. Make them with your kids this month for a fun Halloween-themed drink that's tasty and satisfying!
Scary Berry Ingredients:
1/2 cup blackberries
1/2 cup blueberries
1 T coconut oil
2 T dried gogi berries
1 T hemp hearts 
1 T chia seeds
1 T cocoa powder
3/4 cup almond (or coconut, hemp, etc.) milk
6 small pitted dates
6 ice cubes
Sweet Pumpkin Spice Ingredients:
1/2 cup pumpkin puree (unsweetened)
1/4 cup walnuts (sub 2 T sunflower seeds or 1 T coconut oil if nut-free)
1/2 peach (fresh or frozen, about 1/2 cup)
2 tsp. vanilla
2 tsp. cinnamon (more if you like cinnamon)
1 tsp. nutmeg
6 small pitted dates
3/4 cup almond (or coconut, hemp, etc.) milk
6 ice cubes
Green Goblin Ingredients:
1 large ripe banana 
1/2 pitted avocado
3/4 cup almond (or coconut, hemp, etc.) milk
1 T chia seeds
1 T hemp hearts
1/2 cup kale 
1/2 cup spinach
2 dates
6 ice cubes
For all recipes – throw all ingredients (liquid first) in a high powered blender like Vitamix. Blend until smooth and serve. Enjoy!