It can be overwhelming when your baby begins eating solid foods. Whether your baby is brand new to solids or you're looking to transition off of spoon-feeding, we provide guidance and clarity with how to let them safely feed themselves.
Read more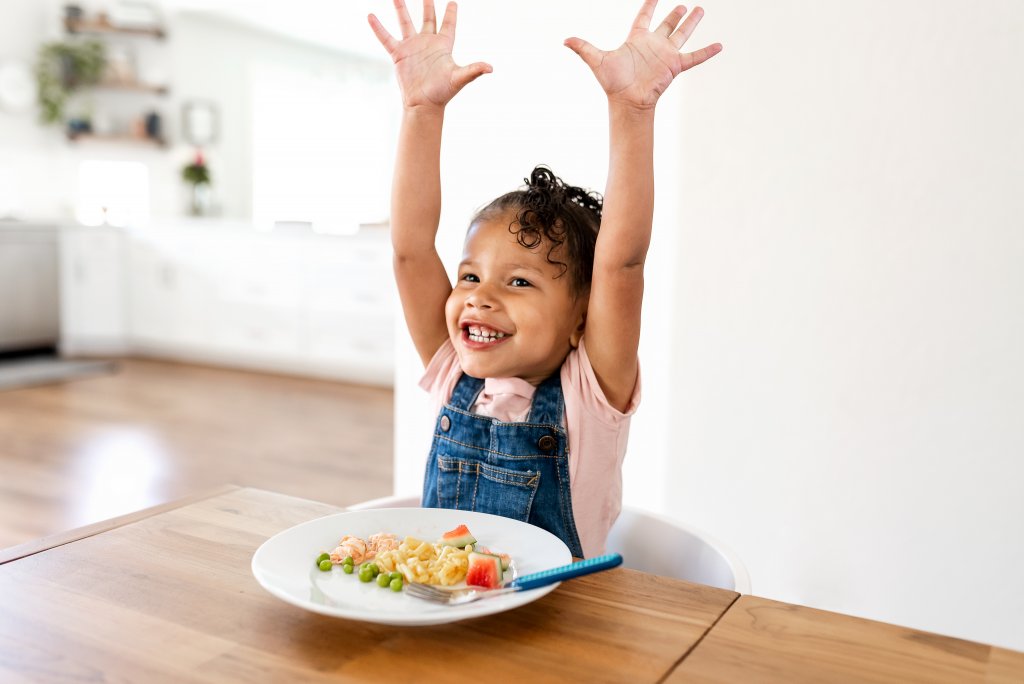 Feeding your toddler or school-age child doesn't have to be frustrating. By making small, manageable changes to your food environment, language, and expectations, mealtime can become enjoyable for the entire family. These evidence-based strategies give caregivers tools to approach common mealtime struggles with confidence.
Read more
My two-year-old eats EVERYTHING!

"Y'all have been so helpful on our journey. I don't think I say it enough. My two-year-old eats EVERYTHING. Stuff I would never even think of touching when I was a toddler. He uses his fork and spoon like a champ and drinks all the water out of his cup. Megan and Judy, thank you!"
Course FAQ
How can Feeding Little's courses help me?
Taking an online course from Feeding Littles is like having a dietitian and a feeding therapist in your back pocket. For years our clients have said, "Why didn't anyone tell me this?" after a private session, and we knew we had to figure out how to help more people have access to this information and support. Our online courses allow you to get the help you need in your own home at a fraction of the cost of private sessions. We teach parents and caregivers how to help their baby self-feed, what to do if your child becomes a picky eater and how to help them have a healthy relationship with food for life. 
Which course should I take?
Our Infant Course was designed to help babies learn how to feed themselves right when they start solids, around 6 months of age. However, many families use it to help transition off of spoon-feeding pureed food in older babies. We recommend taking it when your baby is 5-6 months old, but it can be taken at any time to help your baby learn to feed themselves.
Our Toddler/Kid Course is perfect for 10-month-olds who are already feeding themselves all the way through kids ages 10 years of age.
Do purchased courses expire?
No, our courses are yours once you buy them (as long as we are in the business of hosting courses!). Take it now or save it for later – it's all on your time!
Do the courses get updated?
Yes – for free! If you own a course, you receive all the updates as they happen.
Can I give a course as a gift?
I'm a course client. How can I login?
My child has allergies or dietary restrictions. Is the course right for us?
We all eat differently based on our allergies, special dietary needs, cultural foods, access to food and budget. Our courses help you feed your child the foods that work for your family.
My child has special needs or medical/developmental issues. Do your courses apply to us?
We have served many clients who have children with unique medical or developmental needs. Every child is different and may require a more tailored approach to feeding depending upon their specific situation. While our online courses have been designed for typically-developing full-term children, parents of children with various needs oftentimes find the many tips, ideas and strategies helpful for their unique child. Of course, our courses do not replace individualized therapy or guidance from your provider team. 
I've taken your courses and am still struggling. What next?
Our courses share scientifically-backed feeding therapy and nutrition strategies, but they're not a replacement for individualized therapy when needed. If your child is still struggling after implementing our recommendations, we suggest taking this Feeding Matters Questionnaire, which can help you understand if your child needs more help. 
If your child has issues with chewing/swallowing, sensory development, growth, behavior at mealtimes or anything that affects how they eat, talk to your provider about a referral to a feeding therapist. This practitioner is likely an Occupational Therapist or Speech Language Pathologist with experience in feeding.
If your child has issues with nutritional deficiencies, specific dietary needs or allergies, growth, dieting behaviors or anything having to do with what they eat, talk to your provider about a referral to a Registered Dietitian Nutritionist. We recommend practitioners trained in Intuitive Eating and pediatrics.
I would like to work one-on-one with you. Is this possible?
If you want more individualized guidance, we recommend working locally with a dietitian or feeding therapist in your area. Ask your provider for a referral locally.  You can also head to feedingmatters.org to find a feeding specialist or eatright.org to find a dietitian. 
MEET THE EXPERTS
Judy & Megan are moms & pediatric feeding experts.
Helping you to reclaim joy at the dinner table.
Megan and Judy are industry-leading experts who have worked with thousands of clients just like you. They've seen it all in their private practices, and they understand the stress and confusion parents face in this world of information overload. Megan and Judy strive to help parents simplify feeding their families so they can reclaim joy at the dinner table.
Feeding Littles provides education and support to parents and caregivers — reducing the fears and stress during mealtimes. We empower parents to feel confident in feeding their children.