Do you have a kid with food allergies? 
If you'd like to include all kids – including those with food allergies or those who have medical issues that prevent them from eating candy – in Halloween, then consider being part of the Teal Pumpkin Project! This important project encourages families to display a teal pumpkin and have non-food options available for kids who can't have standard candies. You can even add your house to the map HERE so trick-or-treaters know where to find safe treats.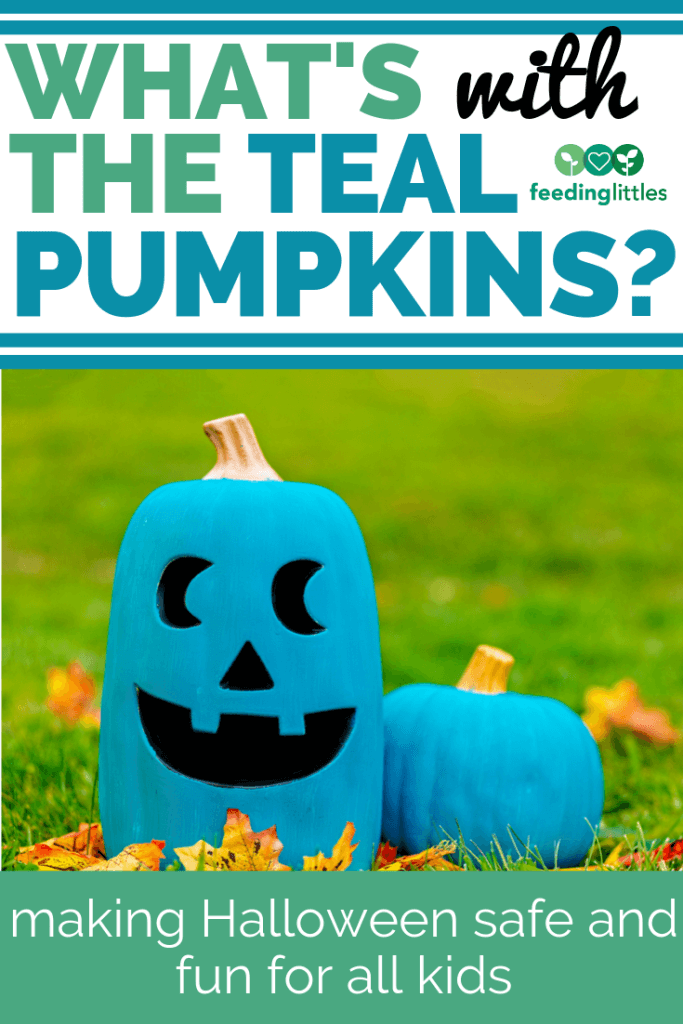 We know that it's tricky maneuvering the food allergy world. In fact, both Judy and myself have food allergies, and I (Megan) grew up with a severe anaphylactic allergy in my immediate family. It's hard.
If you have an allergic kiddo, try to focus on language about "keeping you safe" when discussing allergies. Phrases like, "All bodies react differently to foods. Some people can eat all foods, but some people can't. Your body doesn't like xyz, so in order to keep you safe we have to have other options."
Make sure to have alternative treats for your kiddo to enjoy too. There are some great common allergen-free candies at Target, where you can also find a teal pumpkin most years (and it's reusable)!
You can also have alternative options to candy all together. Some ideas include:
Stickers
Temporary tattoos
Pre-made slime
Bubbles
Vampire fangs
Glow sticks
Pencils, pens
Bouncy balls
Crayons, markers
Mini notebooks
If you're interested in joining the Teal Pumpkin Project, here's how to participate:
Purchase non-food treats.
Display a teal pumpkin (you can buy one or paint one yourself).
If desired, add your home to the teal pumpkin map.
Ask if trick-or-treaters have allergies, or give all trick-or-treaters a choice of food vs non-food item.