Homemade energy bites are my kids' favorite snack, hands down! We have been making these for years and they're so tasty for adults and kids alike – please make sure read the safety information below before serving.
These are also awesome for pregnant mamas as some data suggests that dates may help with cervical ripening before birth.
Best of all, they are a nice balance of protein, fat and carbohydrates (read: energy) that taste amazing.
I loved having them on hand when I was pregnant and breastfeeding, especially because they're a quick, satisfying snack that can be eaten with one hand! You can make a large batch and keep them room temperature, in the fridge or frozen – you (adult) can eat them frozen, but make sure to thaw for younger eaters.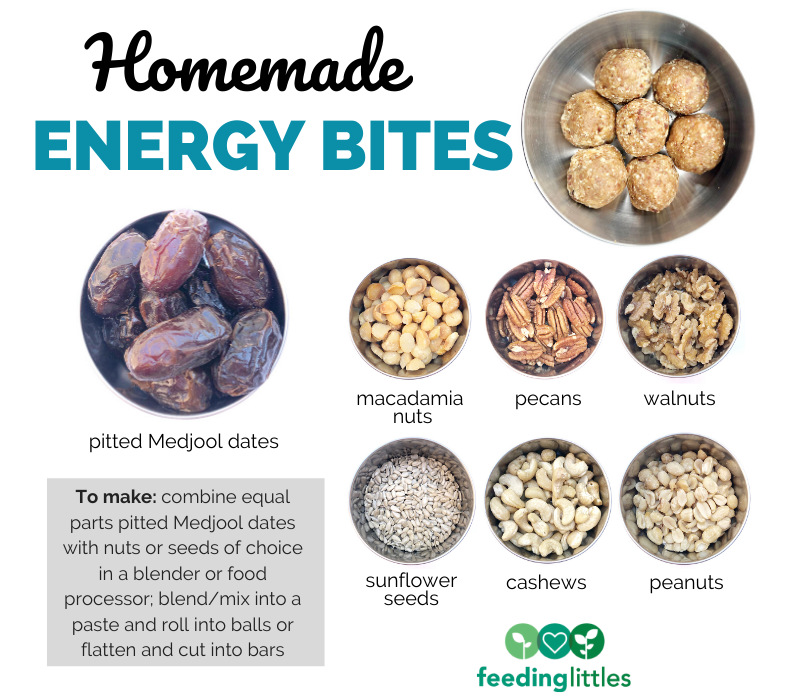 These energy bites are similar to commercially available energy bars and are simply equal parts Medjool dates and nuts or seeds of choice. Make sure to use a high powered blender or food processor to blend. If using the Vitamix, use the tamper.
Vary the nuts you use: each one provides different nutrition! For non-allergic people, regular exposure to allergens is important for allergy prevention. 
A few tips for success with these:
Use juicy (not dry) pitted dates – if they're too dry the energy bites will be too. You can also soak dates in hot water for a few minutes to soften them up first. Simply drain and remove excess water before blending.
Any nut or seed will do – we tend to like the ones that are a little softer/more oily. Almonds work too, but sometimes they're a little dry.
If the mix is too dry when you blend it, add more dates.
You can roll into balls or flatten in a pan and cut into bars.
Consider stirring in finely shredded coconut, mini dark chocolate chips, chia seeds etc. into the "dough" and mix well before rolling into balls.
SAFETY INFO:
If serving these to kids under 4 make sure that the nuts are completely blended – no big nut pieces!
If serving these to babies or young toddlers (a good way to introduce them to various nut allergens), they need to be a very soft paste. Make sure they're completely squishable between your fingers and are soft. When in doubt wait til they're older.