Magic bars are always the favorite of the party when we make them. We gifted them to neighbors recently and I already got the "best neighbor ever" text from a few of them – one asked to put in a large order, another asked if I'm selling them. Not kidding, they're insanely good!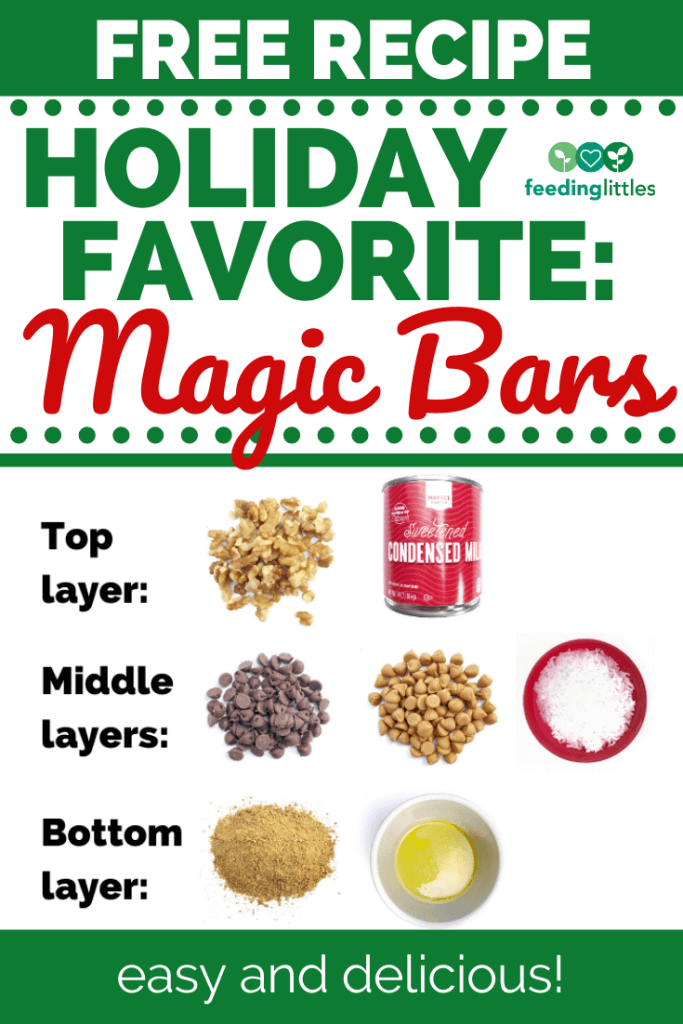 Do you feel out of control around holiday desserts? One thing to try: sit down so you can really enjoy your dessert – we savor food most thoroughly when we are given the space to enjoy the eating process. Put it on a plate, maybe grab a glass of milk/milk alternative (or beverage of choice), and taste it! Eat slowly and savor each bite! After all, isn't that why you want to eat it?
We usually use more quantities than what typical recipes call for – see images below of us putting together the layers. *Make sure the walnuts are finely crushed if serving this to kiddos under 4.*
Ingredients:
2 cups graham cracker crumbs
3/4 cup melted butter
2 cups milk chocolate chips
2 cups butterscotch chips
2 cups flaked sweetened coconut
2 cups chopped walnuts
1.5 cans (14 oz each) sweetened condensed milk
Instructions:
Preheat oven to 350F.
Lightly grease 9×13 baking dish with butter.
Combine melted butter and graham crackers in a bowl, then press into the bottom of the pan to create a crust.
Layer with chocolate chips, butterscotch chips, coconut and walnut, then top with the sweetened condensed milk, trying to distribute milk evenly over the pan. (Layer progression photos below). 
Bake for 35 minutes or until slightly browning on top.
Cut into small pieces and enjoy!