Who loves packing lunches? Anyone? Just me? OK OK, I know I might be the minority here, but I actually kinda like packing lunches. Perhaps it's the dietitian in me, or maybe it's because it gives me a chance to get creative. (Don't get me started on cleaning out lunch boxes though. I could do without that.)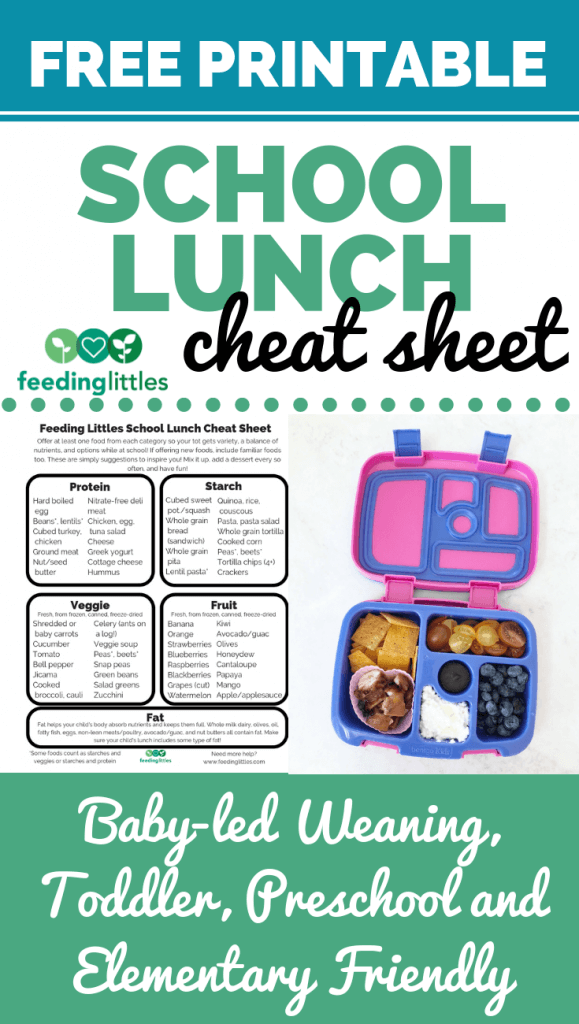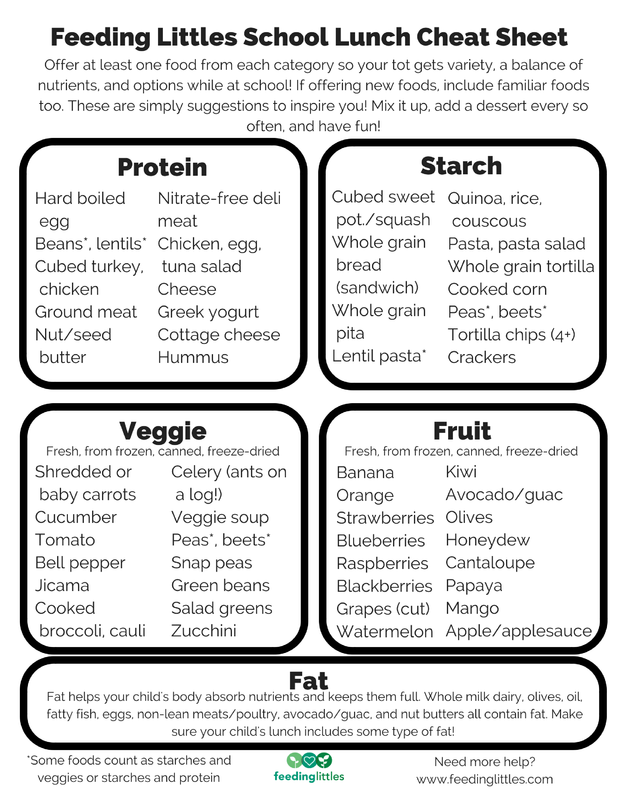 Who loves packing lunches? Anyone? Just me? OK OK, I know I might be the minority here, but I actually kinda like packing lunches. Perhaps it's the dietitian in me, or maybe it's because it gives me a chance to get creative. (Don't get me started on cleaning out lunch boxes though. I could do without that.)
While I myself enjoy this process, I know many parents don't. It's really easy to get stuck in a rut and feel uninspired. I often post our easy lunchbox creations on our Instagram stories (check them out if you haven't!), and many parents have told us that they really need help in the lunchbox department. You asked, and we answered! Here is a simple resource that will help you get out of your lunchbox rut…no Pinterest Parenting or complicated meal prep required.
(PS – need more help with feeding your kids? Don't forget to check out our online courses!)
Our School Lunch Cheat Sheet (link below) is downloadable so you can print it and post it to your fridge or take it with you to the grocery store. We hope that it inspires you to add some variety to your tot's food. Make sure to avoid choking hazards (uncut grapes/cherry tomatoes, popcorn, chips, uncut hot dogs, raw carrots) for kiddos under 4, and follow our additional tips for lunch time success at any age! 
Tip 1: Keep it simple. If every lunch is complicated and requires more than a few minutes to put together, your motivation to experiment with new foods won't last long. Most of the foods we use in our lunchbox are simple, single-ingredient items (like steamed green beans, freeze dried peas, and fresh fruit). Just pick one item from each category and you're all set. 
Tip 2: Keep it safe. If your child's school doesn't refrigerate lunches, make sure to include ice packs. We love these from Amazon.
Tip 3: Keep 'em hydrated. The ideal beverage for kids is water. Make sure your tot has a big water bottle so they have plenty to drink (especially if refilling isn't an option). 
Tip 4:Mix it up. Avoid offering the same exact lunch every day when you can. Variety is key to preventing picky eating and fostering a love for many different foods. If you struggle with this, focus on alternating foods or just mixing up the veggie/fruit. Many kids eat better in the school group environment, so take advantage of their potential willingness to eat by serving something new.
Tip 5: Tailor it to your child. The list below doesn't account for allergies, intolerances or dietary preferences (e.g. vegetarian). Make it your own by omitting what doesn't work for you. If your child has never had a food listed, consider trying it at home first, or include it with plenty of familiar foods when serving it for lunch.
Tip 6:Use convenience foods. Frozen veggies, fruit packed in juice, string cheese and boxed vegetables soups are keep prep time low.
Tip 7: Give them a little extra. Serving sizes for kiddos are pretty small (1-2 T of veggies is a serving for a 1-year-old!), but if we're not eating lunch with our kiddos we don't have a chance to offer them more. I always make portions a bit bigger for school lunches in case my kiddo wants to fill up on just one or two foods.
Tip 8: Don't get discouraged. It is NORMAL for kids to not eat all of their lunch to not touch one particular item (or many items!). Remember, your child will learn to eat what they are exposed to. The more you limit variety in the food you offer, the less variety of food your child will eat. Raising an adventurous eater is a process, one that doesn't happen overnight. Consistency, modeling and making mealtime fun are hugely important in their eventual love of all (or most) foods. Let's be honest, we don't have to love every type of food, right? (Raisins? Blech, I say!) It's OK if your kiddo doesn't either. They may one day, however, if you give them a chance without forcing. 
Tip 9: Add some fun! Don't hesitate to write a little note in your child's lunchbox, offer some chocolate chips, offer a favorite dip, or cut their sandwich into a fun shape. Kids love novelty, and even small changes like serving fruit on a skewer (cut the sharp end off) are a fun way to keep them interested in food. 
Tip 10: Get help if you need it. Our online courses are full of strategies to help with feeding your baby, toddler or big kid. It's time to enjoy mealtime again!