We are big fans of Trader Joe's Bruschetta sauce. It pairs so well with chicken in the oven, Instant Pot or slow cooker…and now you can also try it with pesto! This simple pour-and-cook meal pairs nicely with whole grain, gluten-free or bean/lentil-based pasta and some roasted veggies!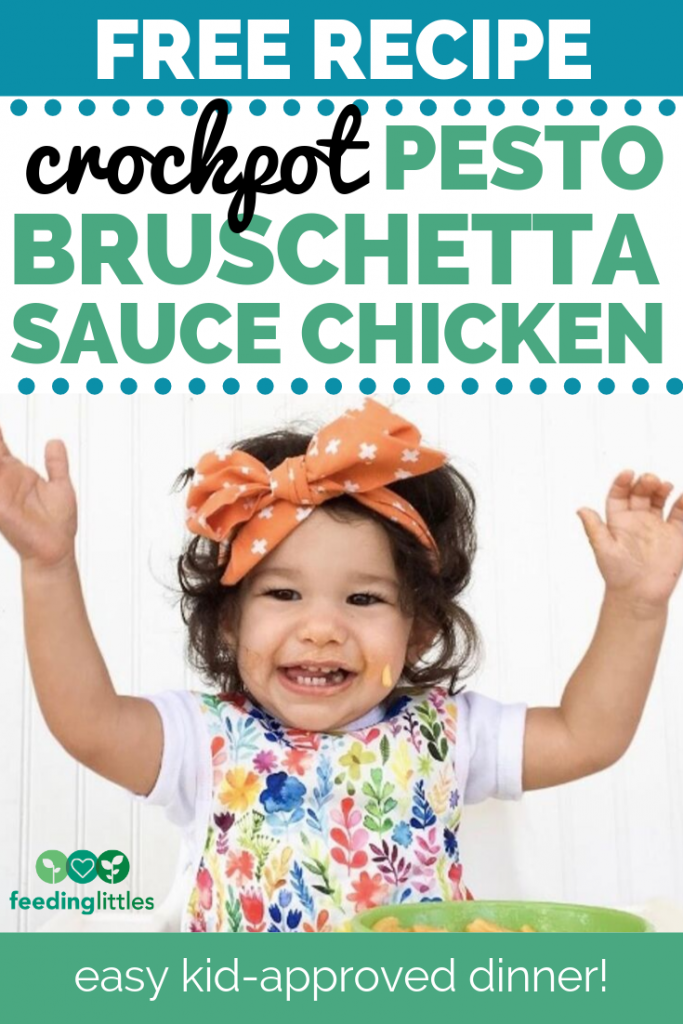 Full disclosure – the broccoli turns a little olive green (I literally had flashbacks to food science class and kicked myself for not remembering this!) so I would probably omit it next time in lieu of sliced olives, but feel free to try it if you don't care about color!
Here's how you make it:
Combine 1 container of Trader Joe's Bruschetta sauce and 2-4 tablespoons of pesto in a medium bowl (taste it to see how you like the flavor).
Pour in 1/4-1/3 cup riced broccoli (optional) for some extra texture and nutrition – no sneaking this in if your kiddos are helping! Let them know they're eating teeny tiny broccolis!
Stir well; pour over 1-2 lb boneless skinless chicken thighs in a crockpot and cook at low for 5-6 hours or until internal temperature reaches 165F.
Using an instant pot? Cook on high pressure for 9 minutes.
Using an oven? Bake at 375 for about 30-35 minutes or until cooked through.
Optional: top with capers, black olives, shredded cheese (or cheese alternative) for additional flavor.