We have so many favorite fast breakfast options, but frozen waffles are definitely top 5 lately! There are a lot of waffle brands out there, and some of our favorites include:
The waffles listed pack a little more nutrition than traditional waffles and can be helpful if you have allergies in your family. You can serve them with the traditional butter and real maple syrup combo, but we also love mixing it up with the toppings and serving suggested listed below!
Make sure to cut them in the right size for your child – babies 6+ months can eat them as strips or "sandwiches," and older babies/toddlers can eat them as small pieces, strips, or whole using their hands! Just toast them first and make sure they're a little crunchy for reluctant eaters!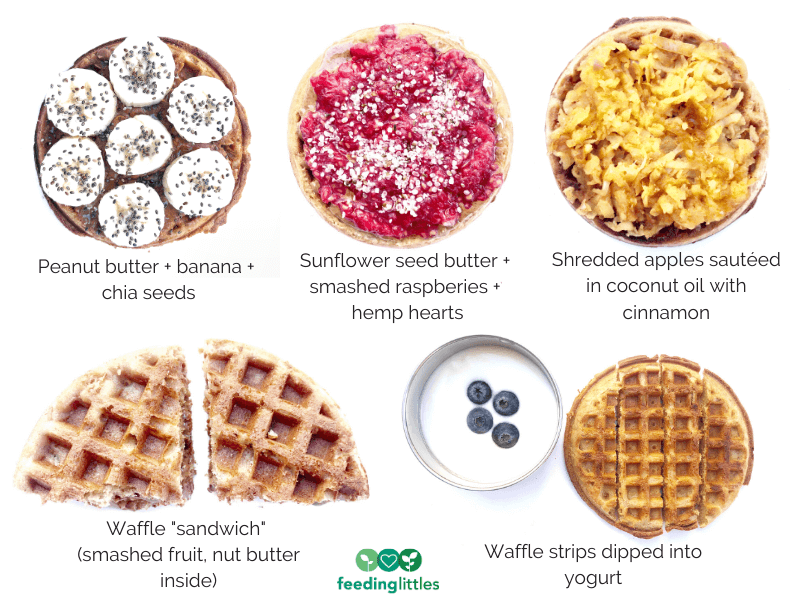 Judy loves waffles because they have natural bite spots for babies and toddlers working on the "bite and pull" skill. We listed various waffle brands above that help satisfy different nutrient needs, as we know that some of you are dealing with allergies, intolerances or health issues. If the waffle itself is low in protein, make sure to pair it with a protein source like nut/seed butter, eggs, hemp hearts, chia seeds, or milk. As always, read labels carefully if you're avoiding allergens.